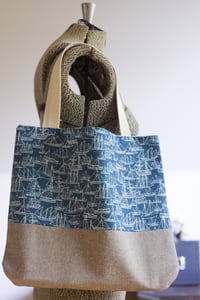 $

22.00
Loving donated by Lauren of My Aunt June. A description of the tote from her etsy shop, auntjune.etsy.com :
This cute little tote is made of custom boat fabric designed by me and printed by Spoonflower. The whole back and front bottom panel are made of a soft, sturdy upholstery fabric, and its lining is made of a stain-resistant upholstery fabric. Perfect as a purse or library bag!
Perfect for all your nautical and seafaring adventures, but also perfect for trips to Target. We can't all be pirates.
Want some of this fabric? Check my other listings, I sell my original fabrics as well!